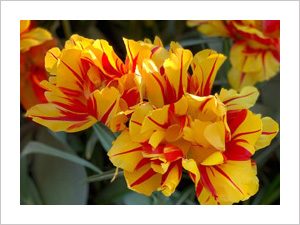 Bewertungen
Great day out!
We had some rain, but the meeting point was easy to find and perfect for a coffee before starting the tour. The flowers were lovely and a nice (easy) cycle through the countryside. It was fun to see the different areas – from the flower fields to the castle and we went back afterwards to pick our own flowers to take home. Astrid was friendly and knowledgable and really enjoyed the bike tour, looking forward to Spring 2021 for the next tour of the tulips!
My name is Steve and I was on you Saturday morning bike tour. I had a very good time and I thought you both did a great job considering how many and the different skill levels of riders you had to deal with. I liked the way you both worked together. I leading the group in front and the other bringing up the rear making sure everyone is staying on the side of the road as we bike along. You made a great team. I spoke highly of the trip when I got back to Leeuwarden to my friends there. Thanks so much,
What a nice tour! Not too long and not too short. Comfortable bicycles. Very easy for everybody who can ride a bike.
We saw beautiful tulip fields and in between there were numerous stops for a closer look.
Next year again!
What a fun bike ride. Not only seen the tulip fields, but also Lisse center. A must for everyone! Thank you Irene, see you next year!
Bitte senden Sie uns Ihre Bewertung!