Guided cycling tour along flower fields
Discover the beauty of Dutch flower fields on the Tulip Bicycle Tour! Enjoy a 2.5-hour guided experience, cycling along colorful flower fields in bloom. Our knowledgeable local guide will lead you to the most picturesque spots for capturing stunning pictures. Explore the flower fields around the Keukenhof, the Agatha Church, and the charming center of Lisse.
During the tour, we will take a break (20-25 minutes) at 'De Tulperij,' where you can walk through a show garden of tulips, daffodils, and hyacinths. Treat yourself to Dutch delights and souvenirs (own expense) while savoring the breathtaking view. Restroom facilities are available. Book your spot now and immerse yourself in the enchanting Dutch flower fields of Lisse!
**You can buy your tickets & read the ticket conditions here**
Important information
Guided cycling tour along the colorful flower bulb fields around Keukenhof (2.5 hours)
Cycling along the highlights of Lisse
Local English-speaking guide included
Bike and helmet provided
Start point tour: Tulipbicycletour, Heereweg 10, 2161AG Lisse.
The season starts with Daffodils and Hyacinths, followed by the spectacular Tulip fields in April.
Reservations are available from 22 March 2024 until 11 May 2024
Daily tours at 9:30 am and 12:45 pm; in high season, also at 4:00 pm
You must be able to cycle a bike for 15 kilometers.
The tour will take place in rain or shine
Private tour option available upon request (please send an e-mail)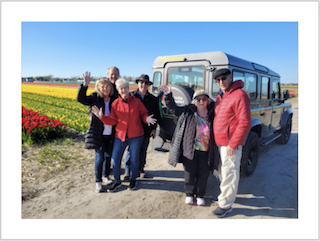 How to Get There
Keukenhof Bus: Stops in front of Keukenhof Gardens. It's a brief 15-minute walk from here to our meeting point, Heereweg 10, in Lisse. When you're at the main entrance of Keukenhof, simply walk straight ahead towards the 'rentabike' company. Exit the parking area and head to the left. You'll easily spot Tulipbicycletour in front of the restaurant. You can also locate us using Google Maps by entering our address.
Other Public Transport: Bus stop "Meer en Duin" serves multiple routes to reach our meeting point.
– From Amsterdam CS:
**Option 1: take the train to Sassenheim and then bus 50 direction Haarlem.
**Option 2: take the train to Schiphol Airport and then Arriva Qliner 361 direction Noordwijk.
– From Haarlem, take bus 50 direction Leiden CS.
– From Leiden, take bus 50 direction Haarlem.
– From Sassenheim, take bus 50 direction Haarlem.
– These buses stop in front of tulipbicycletour.com —> bus stop: "Meer en Duin" in Lisse.
By Car: park your car infront of tulipbicycletour.com. There is plenty of free parking for our guests.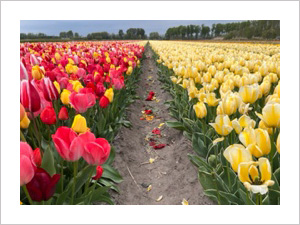 Keukenhof
Keukenhof in Lisse is a magnificent 32-hectare floral park with various flowers, such as tulips, hyacinths, and daffodils. The park is open for visits from March until mid-May, showcasing these beautiful flowers. The surroundings of Keukenhof are filled with amazing flower fields, offering an overwhelming diversity of colors. On this bicycle tour, you will experience the gorgeous views of blooming Dutch flowers in Lisse! The season starts with Daffodils and Hyacinths, followed by the spectacular Tulip fields in April.
Book your Tickets here: Tickets Keukenhof Gardens
Contact
Mail: contact@tulipbicycletour.com
Telefoon: Irene Kraak +316 17176249
Start location:
Tulipbicycletour Lisse
Heereweg 10
2161AG Lisse