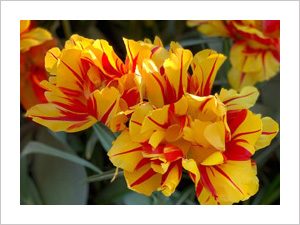 41 reviews on
Nadine Leeuwen, van
2023-09-22
Leuke informatieve fietstocht. Weer een nieuw stukje Nederland gezien. Bedankt Irene (en Hanneke)
Kelly Telljohann
2023-05-28
great experience, roads and paths are mostly smooth and are beginner friendly. The guides know which fields are in bloom and have permission form certain farmers to go in the fields which is helpful for taking pictures and staying respectful!
hanane belhadi
2023-05-25
Een geslaagde tulipsafari👍 een bezoekje aan de kerk en de de watermolen. En de laatste tulpenvelden mogen bewonderen. Leuke herinneringen gemaakt met m'n bestie💜💜 Dank jullie wel
Renee Niño de Rivera
2023-05-07
visiting the tulip fields with Tulip bicycle tour is an experience to treasure. The tour guide was shared very interesting historical facts and important information about The Netherlands. It was the highlight of out visit to The Netherlands. I highly recommend doing this tour.
The bike tour was better than I imagined. Our guides Irene and her husband were amazing. They made sure we were safe and share lots of great information. We visited beautiful fields of tulips. I highly recommend.
What a great experience! Our guides we're great ! I recommend this to everyone!
We had a great time! Loved our tour today!
Absolutely enjoyed this tour. So much better than simply going inside Keukenhof. This way you don't just see the tulip fields from a distance, you actually get to walk through it. We went to two different show gardens, a tulip field and the Saint Agatha Church. All very lovely. We had enough time to take pictures in all of them. It's been ages since I biked so I was wobbly at times but Leony, our guide, always looked out for me by having me ride right behind her. She was also very knowledgeable about the sites we went to and happily answered all questions we had. I went just yesterday May 3, and the tulips were in full bloom. Great time to go. Highly recommend this tour!
Stuur ons uw reviews, zodat wij ze op deze pagina kunnen plaatsen.