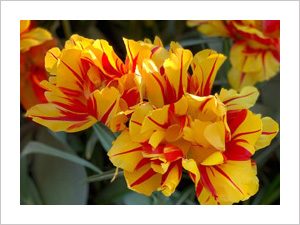 Important information
Duration bike tour including breaks 2.5 hours.
approximately 15 kilometers.
Start time morning tour 9:30 AM.
Start time afternoon tour 12:45 PM.
During high season also an afternoon tour at 4:00 PM
Start: Hotel Lowietje, Heereweg 10, 2161AG Lisse.
Please arrive at the meeting point 15 minutes before the activity starts.
You must be able to cycle a bike for 15 kilometers.
The tour will take place in rain or shine.
Public Transport 
Keukenhof Bus. This bus stops in front of Keukenhof Gardens. Please know that it takes 10-15 minutes to walk to the meetingpoint: Hotel Lowietje, Heereweg 10, Lisse. When you are in front of the main entrance of Keukenhof, please walk straight ahead to a rentabike company. Exit the parking lane. Walk to the left. You will see Hotel Lowietje in front of you.
Other Public Transport:
PLEASE NOTE: GET OUT AT BUS STOP "MEER EN DUIN".
From Amsterdam CS:
**Option 1: take the train to Sassenheim and then bus 50 direction Haarlem.
**Option 2: take the train to Schiphol Airport and then Arriva Qliner direction Noordwijk.
From Schiphol Airport bus Arriva Qliner 361 direction Noordwijk.
From Haarlem take bus 50 direction Leiden CS.
From Leiden take bus 50 direction Haarlem.
From Sassenheim take bus 50 direction Haarlem.
These buses stop in front of Hotel Lowietje / Tulipbicycletour.com.
There is plenty of free parking for Hotel Lowietje.
Maximum number of participants is 18. From 10 participants 2 guides accompany the tour.
Children's bikes (24 inch) and children seats (1-6 YEARS and 6-22 kg) available on REQUEST (contact@tulipbicycletour.com). Childrens bike is €22.50 and Child seat is €12.50. Please pay at the location in cash.
The tour is given in English, Dutch and simple German.
Tulipbicycletour cannot be held responsible for the condition of the flower fields