If you're looking for an adventure, a bicycle tour in The Netherlands is the way to go. Cycling tours are the best way to discover the Netherlands on two wheels with a local guide by your side who can show you the most beautiful parts of this country. You'll see amazing canals and castles, historic cities and towns, flower fields and windmills…
Is it safe to cycle in the Netherlands?
The Netherlands is very accessible by bike. Wherever you are, chances are you can find a bike lane. This makes cycling in The Netherlands extremely safe — and it's also very easy!
Fun fact… Everyone can participate in our tours. However, you do need some cycling experience. During the tour, two of our team members cycle with you. One tulip bicycle tour guide will ride in front, and one extra person from the Tulip Bicycle Tour will ride in the back so no one can get lost in the beautiful landscape. 
There are a few Dutch laws for cycling in the Netherlands that contribute to safety. The most important to remember before hopping on the bike is that you're not allowed to use your phone while cycling. But don't worry, we will make sure to stop at the most photogenetic spots during the tour to take pictures with you and your friends and family!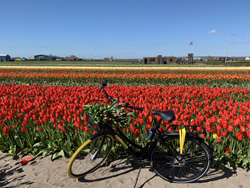 Why a cycling tour is the best way to explore the Netherlands
It is part of Dutch culture 
If you are visiting the Netherlands, one thing that stands out is that almost everyone gets around by bike. Old people, people who are getting to work, even young kids. Dutch children are taught to ride a bike from a young age. However, most tourists get around by car or public transport. But if you are looking for a taste of the most authentic Dutch experience, is to hop on a bike! 
Cycling is a more relaxing way to explore the Dutch countryside
Bicycling is a fun and adventurous way to travel. It is almost relaxing compared to driving or taking public transport. Bicycles can be used to explore areas that would otherwise not be visited by cars, buses or trains. A cycling tour with us would be perfect for anyone who is interested in discovering the countryside as well as rich historical stories from both past and present-day cultures in the Bulb Area.
Tulip season offers the best cycling weather!
The weather is perfect for cycling in the Netherlands. Because we have a mild maritime climate here, it is perfect for doing something outside activities, such as one of our tours.
With temperatures around 15 degrees Celcius during the Tulip season, it is pleasant to discover the bulb region by bike. But the Netherlands is also known for its regular rainfall. So always take an umbrella or raincoat with you when you go out and check the weather before you leave. 
Bike spotting 
As you walk down the street, you may already notice… There are an awful lot of different types of bikes to recognize. Have you ever seen a "oma-fiets"? One of the most common bicycles in the Netherlands, and translates to granny-bike. This bike is easy to ride because of its higher saddle and diagonal-curved frame. Or have you spotted a "bakfiets"? This one is definitely a circus on a bicycle. 
The bicycles from Tulip Bicycle Tours stand out tremendously. You can recognize them by the yellow front tire. Fun to take pictures in the flower fields!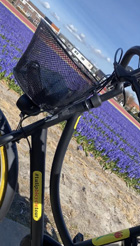 After reading these four reasons to explore the Netherlands by bike, it's time to book your tour.
We know you've seen the pictures of windmills and tulips on your Instagram feed, but we want to show you the real thing—the Netherlands at its most beautiful and dynamic. With our tour, you'll be getting more than just a great cycling experience: We'll make sure that you have an experience that's memorable and fun—one that will leave you wanting more!