Tulips and Holland are inseparable from each other. Each year, the flower region fills up with tourists visiting the flower fields and Keukenhof.  It's an integral part of our culture and identity, and it's also one of the most beautiful flowers in the world. The Tulip is one of the national symbols of The Netherlands. It is a unique flower that has a short life span and blooms only a few weeks in springtime. Its bright colors and beautiful shape make it an eye-catching flower that people can't easily ignore.
In this article, we will tell you about the history of Tulips in The Netherlands, how they became part of Dutch culture, and where and how to see Tulips in Holland!
Don't have the patience to read the whole blog? You can book a tour with us here, and discover the Tulip fields with us by bicycle! So, get ready to explore this beautiful country during the spring. Enjoy the spectacular scenery as you pedal through fields of flowers, making sure to take plenty of pictures along the way.
A little history of the Tulip
There is a peculiar history connected to these special flowers. But what do you know about the history of the Tulip? Its origins are not actually in the Netherlands, but rather in Central Asia. There, it has been cultivated for many years. As a tiny flower growing in the wild, it caught the eyes of traders as the mountains were part of the ancient Silk Road. After the flowers were captured by traders, they travelled from Kazakhstan to Persia and Turkey.
How the Tulip travelled to Holland
There are many stories about how the Tulip ended up in Holland. One story is about a merchant called Carolus Clusius who was working at Leiden University as a Professor of Botany. He made his studies on Tulips which were already well-known in Europe, as they were a sacred symbol in the Ottoman Empire (present-day Turkey) and a symbol of protection. Because of this, the Tulip was often put in the turban of faithful Muslims. The flower was then given the name "Tulipan," which in fact means turban.
Later in his life, Carolus published an article about Tulips and their cultivation methods in which he also described how to cross-pollinate them through cuttings so that new varieties could be created by breeders or growers who wanted to grow new colors or forms of flowers.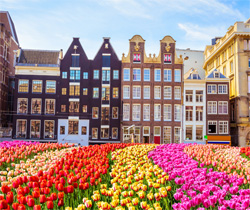 From new discovery to Tulip Mania
It wasn't until later that they became popular among Dutch society—and even then, they were only grown by wealthy people because they were quite expensive! At the beginning of the seventeenth century, the so-called 'Tulip fever' broke out. The price of bulbs had skyrocketed in recent months, and people were clamouring to get their hands on them. People were so excited that they would go out and buy these new flowers at outrageous prices. One story tells us about how a Tulip bulb was worth as much as a canal house in Amsterdam! The Dutch were crazy for these flowers, as they were sometimes already sold at the time the actual bulb was still in the ground.
The bulbs were most popular with wealthy merchants and regents from Haarlem and Amsterdam because they spent a lot of money on creating the most beautiful ornamental gardens.
Suddenly, the mania around the Tulip collapsed. Some people had made an incredible amount of money from it, others had only a worthless piece of paper left
If you want to learn even more about the history of the Tulip, be sure to visit the Museum of the Black Tulip ("Museum de Zwarte Tulp" in Dutch). During our tours, we cycle past this museum. You can visit the museum after the bike tour. For more info, click here.
Where can I see Tulips?
A visit to the Netherlands is of course not complete without a look at the Tulip fields. But where can you visit the flower fields around Amsterdam?
Most Tulip fields can be found in the well-known 'Bollenstreek', just outside of Amsterdam. If you're looking for a way to experience these incredible fields, our Tulip Bicycle Tour is perfect for you! We'll take you on a ride through some of the most beautiful parts of Holland—including some of our favorite Tulip fields—and give you a fun and unique way to experience this beautiful country.
Our friendly guides will show you how to use your bicycle properly so that you can enjoy yourself while still being safe and comfortable. And they'll be there to answer any questions that may come up along the way. However, you need to have cycling experience to take part in this tour. There's no better way to see Holland than by bike!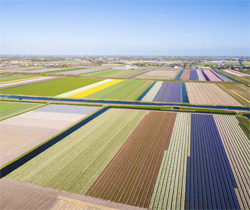 When can I visit the Tulip fields?
There are many different flowers to be seen in Holland, such as Hyacinths and of course Tulips! Mother nature decides each year when flowers bloom. The time when the flowers bloom, can differ by a few weeks each year. The well-known Tulips are in bloom from mid-April to the end of April. At this time of the year, you can book a tour. Read more on this here.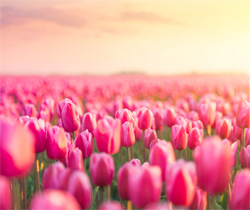 Visit the Tulip fields
When you book a tour with us, you will have an unmissable experience. Whether you're looking to take a romantic trip with your significant other or just want to spend some time exploring with friends, this experience will leave you speechless. We're talking about an experience that will fill your eyes with awe every single day and leave you wanting more!